Back to top
News and Announcements
BPA 2018-2019 Art Camp Opportunity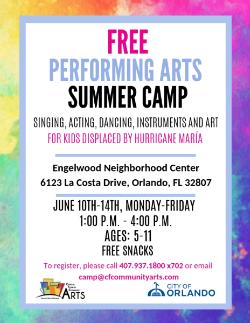 Central Florida Community Arts will be providing a free performing arts summer camp at Engelwood Neighborhood Center for students that have been displaced by Hurricane Maria. If your child or know of a child that meets criteria and may benefit from this opportunity please contact the Central Florida Community Arts office or Engelwood Neighborhood Center.

BPA 2018-2019 Free Gateway Chalk Festival

Join our community at the Community Chalk Art Festival, a free chalk festival on March 30th, 2019 from 10 AM to 5 PM. Explore art created by 25 chalk artist, a children's chalk area, cultural performance and a variety of food vendors. More details can be found on www.artATgateway.com

BPA 2018-2019 Front Office Updates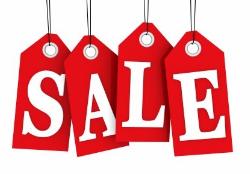 BPA family we are still selling $1.00 books in the front office. We have a limited quantity of books left so hurry in before they are all gone!
Also please remember that we do have a few copies left of the 2017-2018 yearbooks out for purchase in the front office as well. They are going for the low price of $5.00 per
yearbook! Pass by and snatch a copy for your child's book of memories today!
Help your school fund raise with each purchase made!

BPA 2018-2019 8th Grade Promotion Reminder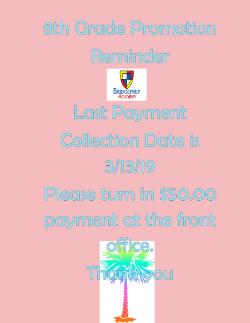 This is a reminder for 8th grade parents/guardians:
Last day of 8th grade promotion is this Wednesday, March 13, 2019.
The promotion must be paid in its entirety ($50.00).
Promotion includes morning ceremony, pizza, adult obstacle course, medals, picture and picture frame, gown, special recognition certificates, shave ice machine, and cotton candy machine.
Do not miss out on this amazing opportunity to share some great memories with your fellow 8th grade graduation class.

BPA 2018-2019 Elementary Bilingual Parent Opportunity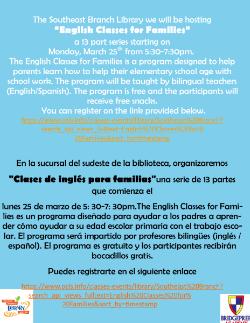 Our partners at the Southeast Branch Library will be hosting "English Classes for Families," a 13 part series starting on Monday, March 25th from 5:30-7:30pm. The English Classes for Families is a program designed to help parents learn how to help their elementary school age with school work. The program will be taught by bilingual teachers (English/Spanish). The program is free and the participants will receive free snacks.

BPA 2018-2019 Severe Weather Form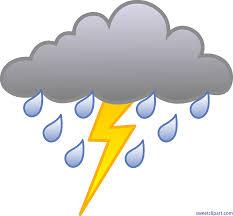 When encountering severe weather in the afternoon dismissal procedures must be modified. Please see attachment to understand the dismissal changes that must take place according to the Orange County School System.

BPA 2018-2019 Parent Letter Announcement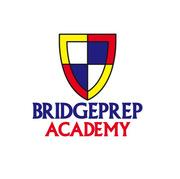 Parents/Guardians please see attachment.

BPA 2018-2019 Important Notice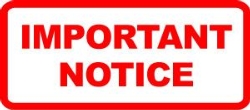 There will be no early dismissal on 03/06/19 due to Orange County testing policy. Please make the necessary arrangements for regular school day dismissal.
Dismissal Schedule on 03/06
K-5th: 3:45 PM
6th-8th: 4:00 PM

Schedule A Tour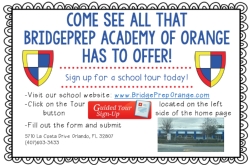 Sign up for a school tour today and see all that BridgePrep Academy of Orange has to offer!
#BridgePrepAcademyofOrange #BPAofOrange #BridgePrepBulldogs

BPA 2018-2019 Texas Roadhouse Family Spirit Night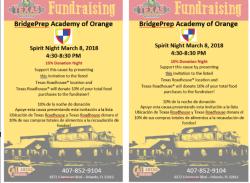 Date: March 8th
Time: 4:30-8:30 PM
Place: Texas Roadhouse 6372 S Semoran Blvd. Orlando, Fl 32812
Important Reminder: You must bring the attached Texas Roadhouse flyer with you to dine in and present it to your server by the end of your meal. The Texas Roadhouse staff then takes your flyer and attaches it to your receipt for BPA to get its 10% fundraiser donation! Please come out and join us for a savory and fun filled family night!