Back to top
News and Announcements
2018-2019 Safety Message
Good Morning
Message to Parents please:

OCPS Safety Message Update:

BPA of Orange families, this is an update to last evening's safety message from OCPS. We understand parents may have questions and concerns. We received notice from the Florida Department of Law Enforcement that a general threat was reported against an UNNAMED school and tourist attraction in the Central Florida area. No specific school was mentioned in the anonymous threat which was received through a crisis hotline in Connecticut, but originated in England. Though the threat was deemed NOT viable, we are working with law enforcement agencies. Central Florida School districts were notified and are exercising caution. We will update you as additional information becomes available. The safety of our schools remains our top priority. Thank you for your continued support.

Dr. Joy Gordon Fernandez
Proud Principal
BridgePrep Academy of Orange

BPA 2018-2019 May Breakfast/Lunch/Snack Menu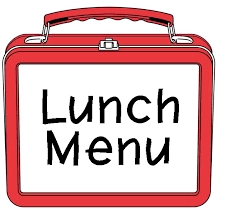 BPA 2018-2019 Muffins with Mom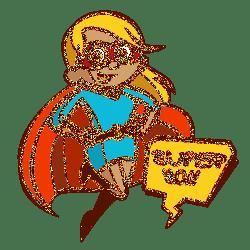 K-2nd grade mothers yo are invited to join us on May 10, 2019 for Muffins with Mom!

Kinder:
9:45-10:30 AM
1 & 2nd:
10:35- 11:15 AM

See you there!

School Principal's Day
Happy Principal Appreciation Day Dr. Fernandez
Thank You for all you do for us.

BPA 2018-2019 Teacher Appreciation Week Schedule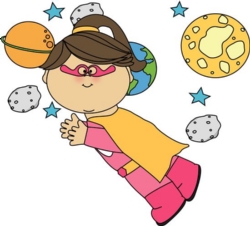 Bulldogs remember that Teacher Appreciation Week May 6-May 10. Please see the attached schedule to show your teachers how much you care for them!
#OurTeachersAreOutOfThisWorld

BPA 2018-2019 Principal Appreciation Day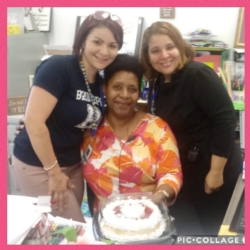 Happy Principal Appreciation Day to our fearless and talented leader Dr. Joy Gordon Fernandez! Thank you for all you do for our staff, students, and community!

BPA 2018-2019 FSA Schedule
BPA 2018-2019 May Calendar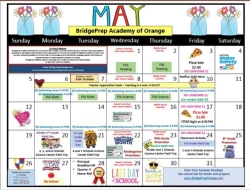 Make sure to check out our calendar as the last month of school is always the busiest!

BPA 2018-2019 Orange County Library System Summer Information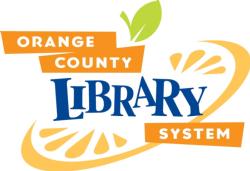 The Southeast Branch Library is offering summer weekly activities for preschoolers to teens as well as activities for the whole family to enjoy together.
Attached is the library card registration form. These activities are only available to individuals with a library card.
To register for any of the offered activities (once you have registered for a library card) visit OCLS.INFO/SRP

BPA 2018-2019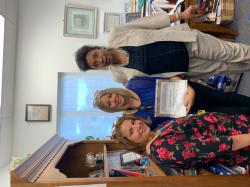 Thank you to our lovely Para Ms. Martinez for helping us out this school year! Best wishes from your family at BPA!